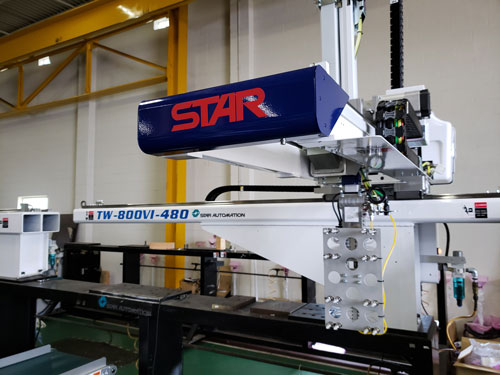 Star Automation is an established leader in the production of automatic unloaders. As a leading international producer of servo motor driven automatic unloaders, sprue pickers, conveyors and pallet changers, we stay on the cutting edge of production technology, with unrivaled customer service.
Since our founding in 1964, Star Automation has earned an international reputation as a leading manufacturer and service-oriented supplier of automatic unloaders for the IMM plastics industry. Our experienced engineers, technicians and representatives work with each of our clients to find the best automated solution for your operation, and continue our customer service beyond the sale.
We focus on building long-term partnerships in order to provide enhanced automated factory efficiency. Star Automation manufactures world class servo motor driven unloaders, sprue pickers, pallet changers and conveyors using industry leading innovation. Whatever the size of your operation, Star Automation will find the automated solution best suited for your needs.
The Star Automation customer advantage is supported with:
Simple to Use Factory Automation & Superior Customer Support
Star Automation's series of servo robots, sprue picker robots, pallet changers and conveyors use the most efficient and precise technology, controlled by the most simple to use control panels and operating practices on the market. Each robot sold is accompanied by a step-by-step implementation procedure configured and monitored by our experienced engineers and technicians. Star Automation trains every client on the use of their new robot and remains available for further questions, training, maintenance and repairs.
Along with our industry leading products, Star Automation's customer service puts us above the rest.